Read: 5th February – 8th February
Rating: ⭐⭐⭐⭐
Spoilers in review: No
Rep: west african inspired setting and cast, sapphic side character
CW: graphic violence, murder, mutilation, torture, death of a family member, death of a family member due to illness, disownment, reference/discussion of rape, reference/discussion of child rape, fantasy bigotry/othering, racism, sexism
Goodreads description:

Sixteen-year-old Deka lives in fear and anticipation of the blood ceremony that will determine whether she will become a member of her village. Already different from everyone else because of her unnatural intuition, Deka prays for red blood so she can finally feel like she belongs.

But on the day of the ceremony, her blood runs gold, the color of impurity–and Deka knows she will face a consequence worse than death.

Then a mysterious woman comes to her with a choice: stay in the village and submit to her fate, or leave to fight for the emperor in an army of girls just like her. They are called alaki–near-immortals with rare gifts. And they are the only ones who can stop the empire's greatest threat.

Knowing the dangers that lie ahead yet yearning for acceptance, Deka decides to leave the only life she's ever known. But as she journeys to the capital to train for the biggest battle of her life, she will discover that the great walled city holds many surprises. Nothing and no one are quite what they seem to be–not even Deka herself.
I really enjoyed reading this! Forna's built a rich and detailed fantasy world, and it practically came to life as I was reading. I adore fantasy worlds that feel glittery and/or golden, which I freely admit might not make any sense to anybody who isn't me, and this one definitely qualifies for that.
I liked the strong focus on friendship and sisterhood! The most important relationships in Deka's life are the friendships she has with the other alaki, and especially with her best friend Britta. Friendships are so important, and too often the friendships between girls in fiction are the source of drama and backstabbing. There was none of that here. The girls fought for and alongside one another, and would die for each other in a heartbeat. This is exactly the sort of thing I want to see more of!
Deka also develops a romantic relationship, and overall I liked it. I appreciated that it was relatively low-key, and that it was never a source of conflict or drama. I also appreciated that the characters had a sort of slow slide into a romantic relationship. They liked each other as people long before they liked each other as romantic partners. It might be the demiromantic in me jumping out, but I much prefer this approach to romance than anything resembling insta-love.
My one wish for their relationship is that I would've liked to have seen more of them interacting, just in general. Honestly, this goes for Deka's friendships as well. I really liked what's shown of all of these things, but considering how much time passes over the course of the novel I don't think we were quite shown enough. There were times were I felt a little bit like we were being told that relationships had developed rather than being shown it. If there were just a handful more scenes of the characters interacting with one another then the whole book would become ten times stronger than it already is, and in all fairness it's already pretty damn strong.
I would 100% recommend this book! The story wraps up in this one in such a way that it would work perfectly well as a standalone, but this is marked as being the first in a trilogy, and I'm very curious to see where things will be going from here!
I received an e-arc through Netgalley in return for an honest review
Goodreads | Amazon UK | Waterstones | Blackwells | Hive | Bookshop.org
About The Author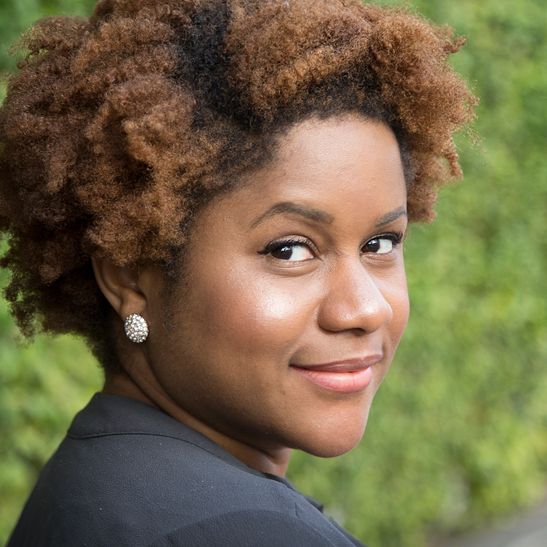 Namina Forna is a young adult novelist based in Los Angeles, and the author of the upcoming epic fantasy YA novel The Gilded Ones. Originally from Sierra Leone, West Africa, she moved to the US when she was nine and has been traveling back and forth ever since. Namina loves telling stories with fierce female leads and works as a screenwriter in LA.
Visit her on twitter at @NaminaForna and on Instagram at @namina.forna.
---
About The Blogger
El is a 21 year old university student from the UK who loves to read and loves talking about what they read. They particularly like to focus on books featuring lgbtq+ main characters.