Read: 17th September 2020 – 18th September 2020
Rating: ⭐⭐⭐⭐
Spoilers in review: Minor
Rep: questioning asexual lesbian main character with undiagnosed anxiety, chinese-american side character, biracial chinese american side character, queer side characters with endometriosis & anxiety
CW: panic attacks, homophobia, violence, hospitals, hospitalisation of a family member, comas, guns, government organisations, suicide
Goodreads desc:
When Hazel Stanczak was born, an interdimensional rift tore open near her family's home, which prompted immediate government attention. They soon learned that if Hazel strayed too far, the rift would become volatile and fling things from other dimensions onto their front lawn—or it could swallow up their whole town. As a result, Hazel has never left her small Pennsylvania town, and the government agents garrisoned on her lawn make sure it stays that way. On her sixteenth birthday, though, the rift spins completely out of control. Hazel comes face-to-face with a surprise: a second Hazel. Then another. And another. Three other Hazels from three different dimensions! Now, for the first time, Hazel has to step into the world to learn about her connection to the rift—and how to close it. But is Hazel—even more than one of her—really capable of saving the world?
I enjoyed reading this book! I was able to read it very quickly, and the story drew me in right from the start.
The Art of Saving the World is a fantasy story masquerading as sci-fi, which is something that the characters themselves are surprised by once this fact makes itself known. The mysterious government agency (or MGA, as it's literally called in the book) are convinced that there's a scientific explanation for the rift, but they're wrong. I really liked the real explanation of what the rift is, why it's there, and what makes Hazel so important. This book is an examination, possibly even a deconstruction, of the chosen one trope, and I'm a sucker for that sort of thing.
Nothing about this book's cover or description indicates that one of the major characters is literally a dragon. I was delighted at this surprise dragon, and she also turned out to be a very entertaining character to read about, which made it even better. The moment that I realised there was a dragon in this I put the book down so I could excitedly message my partner to let them know that the book I was reading had a dragon in it! Loving dragons is ace culture, that's just how it is. Since this book's publication Duyvis has talked openly about Neven's existence, so I don't consider it a spoiler even though her being there was a surprise to me, and I hope that there being a dragon in the book makes more people want to read it.
(Also at one point the dragon takes a group selfie with the Hazels and that alone should make you want to read this book.)
The interactions between the different Hazels was really interesting to read about! They all had things about them that were different, due to their different universes and circumstances, but they also all had a lot of similarities and it was interesting to see the POV Hazel – Hazel Prime – reacting to both the differences and similarities. Key things that I think are worth mentioning are specifically how she reacts to 'Rainbow', who is the most visibly queer Hazel, and 'Four', who is the Hazel who is most similar to her. Hazel Prime spends a lot of the book almost in awe of Rainbow, both of her appearance and of her apparent confidence, while she's often harshly critical of Four's appearance. She's not trying to be mean, and every time she catches herself thinking mean things about Four she's horrified, but looking at Four reminds her of all the things that she dislikes about herself and her own appearance. All of these things were relatable to me to some degree, and I'm sure that they will be relatable to a lot of people who read this book. A strong message that this book pushes is that people should be kinder to themselves.
This book also features a favourite obscure trope of mine! I really love it when duplicates of people, whether those duplicates are clones, copies, or from another universe, become like siblings with the original/alternate version of themselves. Hazel Prime explicitly describes the other Hazels as her best friends, and one of them as her sister, and I'm living for it!
The queer representation was good! I liked that all the Hazels were at different stages of discovering their own sexualities and/or coming out to other people, and it was cool to read from the perspective of a character who's questioning in a story that isn't primarily about that. I also liked that Rainbow, the Hazel who is the most comfortable with and open about her queerness, is an asexual character who does have sex sometimes. Not all asexual people are sex repulsed, attraction and action are not the same thing, and that's something that is incredibly important for people to understand. However, I personally got the impression that Hazel Prime's asexuality was treated as being secondary to her being a lesbian. A decent amount of page time was dedicated to her wondering whether her feelings towards one of her friends was a crush or not, and almost none of it mentioned her lack of sexual attraction until the point that a discussion about labels was being had. My asexuality is just as big a part of me as my love of women, it's not just a modifier. But, that being said, there are definitely people out there who do see their asexuality as being more of a modifier. My experiences are not universal and all that. This is just something to bear in mind as it did bother me while I was reading.
All in all, The Art of Saving the World is a fun look at the chosen one trope with an unconventional main cast and also a dragon. I definitely recommend it!
I received an e-arc through the author & publisher in return for an honest review
Goodreads | Amazon UK | Waterstones | Hive
About The Author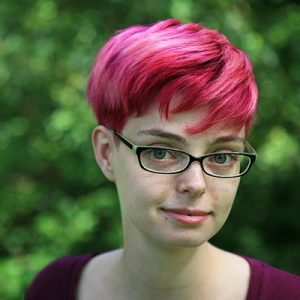 Corinne Duyvis is the critically acclaimed author of the YA sci-fi/fantasy novels Otherbound, which Kirkus called "a stunning debut;" On the Edge of Gone, which Publishers Weekly called "a riveting apocalyptic thriller with substantial depth;" and The Art of Saving the World, which Kirkus called "impossible to put down." She is also the author of the original Marvel prose novel Guardians of the Galaxy: Collect Them All. Corinne hails from the Netherlands. She's a co-founder and editor of Disability in Kidlit as well as the originator of the #ownvoices hashtag.